SINGAPORE'S FAVOURITE TRACK-GUIDED BLINDS FROM AUSTRALIA 
PROTECTION FROM SUN, RAIN AND WIND | PROTECTION FROM FLYING INSECTS | EASY MANUAL OR MOTORISED | SMOOTH AND STURDY TRACK GUIDED 
---
Ziptrak® blinds offer protection from UV, sun, wind, haze and rain, so you can enjoy your outdoor areas at all times, in all weather conditions.
Protect your outdoor living space from
Heat
Flying Insects
Rain
UV Radiation & Sun Glare
Dust
High Floor Litter
Ziptrak® is the original outdoor blinds system with a patented, track-guided design that glides smoothly and stops at any height.
Why choose Ziptrak® over other track-guided blinds system?
EASY TO USE: regardless of whether you choose our hand-operated SuperSpring

™

 system or our obstacle-detection motorised system, Ziptrak® blinds are fuss-free and easy to use. With our manual SuperSpring™ system, you can easily push up or pull down the blinds with one hand with minimal effort, as the weight of the blinds is borne by the patented SuperSpring™. Our motorised system can be operated with the touch of a button, and integrated with other home automation systems. In addition, there are no unsightly cords, wires or zips; which can be safety hazards to small children or pets.
DURABLE: Our patented side-spline design means Ziptrak® blinds are uniquely built to withstand strong winds; even up to 260km/hr! Aesthetically, the fabric stays flat along the tape, so you won't get wrinkles and creases along the side, which other brands suffer from.
REPUTABLE: With over 30 years of experience, Ziptrak® is the most popular brand in Australia! The development team at Ziptrak® is strongly invested in continuous research and development, based on customer feedback, so that we can always offer a superior product that's effective, durable and meets your needs.
---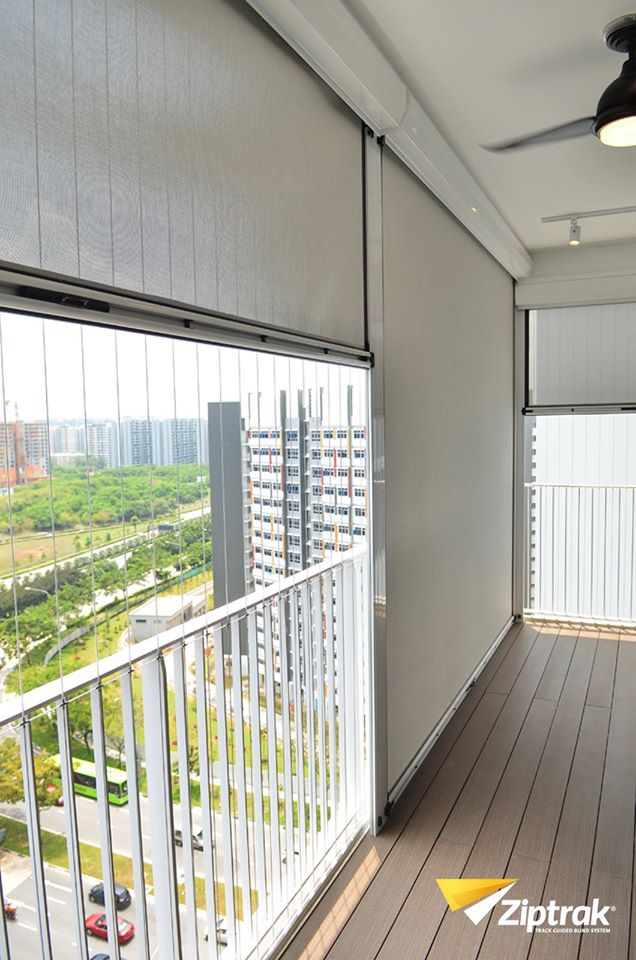 Ziptrak® Sunshade (Mesh)
Offers 95 to 99% UV Protection, is flame retardant, lead-free and infused with Microban antimicrobial protection (inhibits the growth of bacteria, mold and mildew) and provides excellent reduction in solar heat, while allowing diffused natural light in.
---
Ziptrak® Clearview (PVC) 
Provides a complete block out of wind and rain, and significantly reduces dust, haze and debris. Even though transparent, it blocks more than 90% of harmful UV rays, while keeping cooled air in. This marine-grade PVC is developed specifically to withstand harsh climates.
---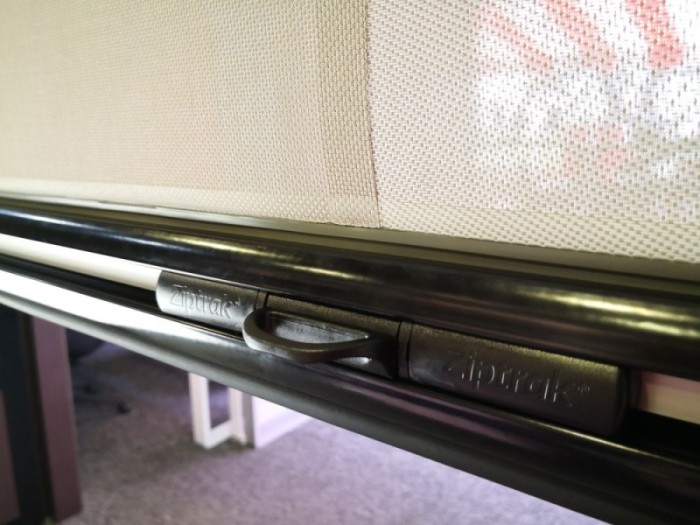 Centre-Lock-Release 
The blind can be left at any height or locked at the lowest position. Unlock and operate from the centre with one easy movement.
---
Go wide
Ziptrak® blinds can fit spaces up to 6m wide and 4.7m tall; even for high floors! Unlike traditional manual blinds that only go up to 2m wide, our super-wide blind means you can have a single blind, instead of multiple blinds with posts in between.
---
Motorisation
Optional motorisation is available for household and commercial applications. The motor is hidden within the pelmet, and the blinds can be left at any height.
Motorisation is perfect for:
→ Large blinds.
→ One-touch conveniece.
→ Blinds mounted in hard-to-reach places.
→ Lowering multiple blinds with just one button.
→ People with limited mobility.
→ Suitable for Ziptrak® Sunshade.
---